Time Traveling Through the Temple:
An Introduction to the Wilshire Boulevard Temple Murals Curriculum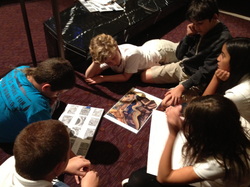 The Wilshire Boulevard Temple Mural Curriculum
invites students to "step inside" the 1929 Warner Murals that envelop the sanctuary of this historic Los Angeles Reform synagogue. By traveling back in time through the detailed imagery of this 320 foot frieze, students experience the sweep of Jewish history from Abraham to the discovery of America, as well as the traditions that connect us as a People.
By looking closely at
the murals, journeying into the historical time and
understanding the stories they tell, students
discover themselves in the ongoing continuum of Jewish life.
Envisioned by Rabbi Edgar Magnin, who understood the visual power of both the great cathedrals of Europe-- and the new motion pictures of Hollywood, the murals were designed to encircle the Temple's domed neo-Byzantine sanctuary and surround and inspire worshipers with their history. The murals were a gift of movie studio moguls Jack, Harry and Abe Warner, who were Temple members. The Warner Brothers donated the services of their studio art director and mural painter Hugo Ballin to produce the paintings, in close consultation with Rabbi Magnin. In 2013, as part of an extensive renovation of the Sanctuary, the murals were painstakingly restored to their original vibrancy.
This curriculum was created to maximize the potential of these rich narrative images as a touchstone for exploration and learning. Each section of the mural leads students into the historic landscape where they explore both daily life, and the magnitude of the personalities and events depicted in these compositions.
HOW TO USE THE CURRICULUM
The Wilshire Boulevard Temple Mural Curriculum was designed for teachers and students at the Wilshire Boulevard Temple Religious School and Brawerman Day School, as well as other educators who would like to access these resources. The curriculum has two tracks, both designed for 6th grade and up. We encourage you to adapt the lesson plans to meet the specific needs of your students.

Additionally, there are many downloadable project templates within the lesson plans to help frame your student's learning. Be sure to click on the light blue text within the lessons to access the materials, or to link you to related resources.

We encourage you to begin each lesson plan in Track #1 by closely looking at the section of Ballin's mural, either projected or on ipads. Rabbi Magnin's description of each mural panel, from his 1929-30 lecture series is included under each image. You can use the SEE-THINK-WONDER--Insights from Ballin's Mural activity in Journey #9, to inspire students to interpret what they see-- before you explain the details.

---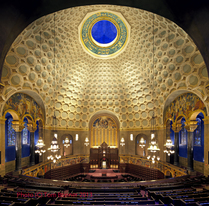 VISITING THE WILSHIRE BOULEVARD TEMPLE SANCTUARY
Before embarking on this curricular journey, we suggest that you arrange a field trip to visit the Wilshire Boulevard Temple Sanctuary.
Tours of the historic sanctuary are available by appointment only. Contact the tours department at (213) 835-2195.
Wilshire Boulevard Temple and Brawerman teachers Click Here for resources for student field trips to the WBT Sanctuary
---
---
---
Journey Through The Wilshire Boulevard Temple Murals was created for WBT by Shari Davis & Benny Ferdman,
Creative Ways
http://www.creativeways.org
Questions? Email inspire@creativeways.org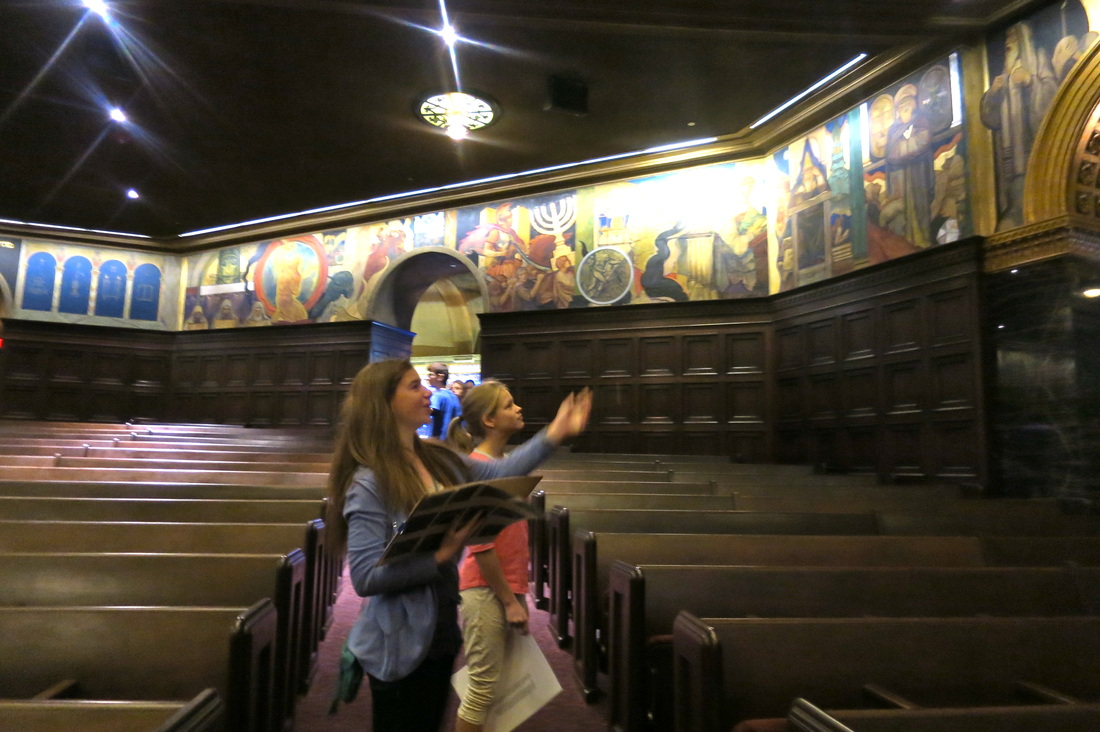 ---