Curriculum Track #2--Building Jewish Community in Los Angeles

Journey #1 Pioneer Jews & The Oldest Jewish Congregation in Los Angeles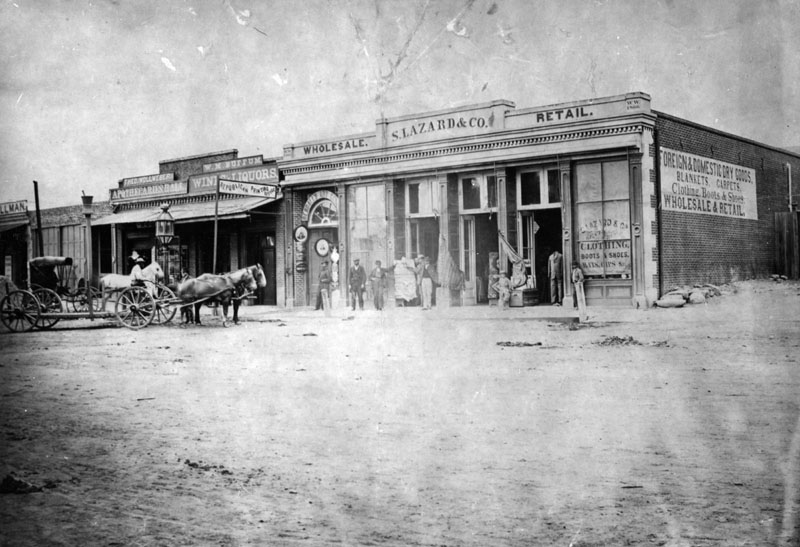 Downtown Los Angeles, approx. 1854. The store of Solomon Lazard, Jewish merchant and civic leader of early Los Angeles.
Enduring Understandings:
The earliest Jewish leaders in pioneering Los Angeles were the founders and leaders of Wilshire Boulevard Temple

Primary documents such as photographs, maps and letters can tell powerful stories about a place.
Understanding the story of of your community enables you to feel a sense of place and belonging.

Learning the story of your community is an ongoing adventure, requiring good observation and persistent curiosity
Essential Questions:
What historical experiences and events inspired the design of Wilshire Boulevard Temple in 1929?
Why does knowing the history of a building and community matter to us today?

How do these stories affect our sense of Jewish identity as WBT community members today?
Ideas to Discuss
Project the image above or ask students to open the website on their phones and locate this page.
Wilshire Boulevard Temple was built on the foundation created by the first Jewish pioneers that came to Los Angeles. In 1848 the Gold Rush just started and the Mexican-American war ended with California becoming part of the United States. In the early 1800's San Francisco was the more developed port city on the west coast; Los Angeles was a dusty, rough and tumble town with unpaved roads, cattle ranches and newly arriving, entrepreneurial immigrants eager to make their mark. Motivated by the westward expansion and business opportunities supplying the gold miners, Los Angeles became a fast growing pueblo filled memorable characters and stories. The historic buildings of WBT provide a dramatic setting for the telling of the tale of how the Jewish community took root and flourished in Los Angeles.
In 1862, the first building of WBT was built by the leadership of the Los Angeles Jewish community--during a time when the country stood divided, engaged in Civil War, and Abraham Lincoln was the president of the United States. Then known as Congregation B'nai B'rith, it was located first at Temple Street and Broadway downtown, and then moved to a larger space at Ninth and Hope streets. In 1929, the synagogue — now the oldest in Los Angeles — moved into its third historic home, on Wilshire Boulevard and in 1937 changed its name to Wilshire Boulevard Temple
The story we will explore here is about the trail blazed by generations of hard working, entrepreneurial and civic minded Jewish men and women who imagined, and built from nothing, the organizations needed to create a foundation for a Jewish community in Los Angeles they could be proud of. We are going to put our selves in the shoes of some of these early founders, and their children; by looking closely at some of the letters, photographs and writings we will try to better understand how the Jewish community in L.A. took shape over the generations.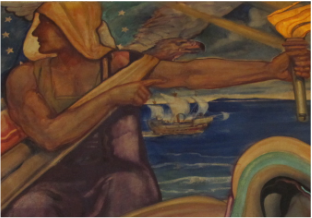 ACTIVITY #1
Imagining the Early Days of Jewish L.A. through Primary Documents
How do we benefit from knowing about the early days of our city and community? Have any of you looked at old family photographs? What is the oldest photograph or documents you have seen in your family? What can we learn about our family history, and ourselves, through these old photos, letters, diaries, and other documents?
Looking closely at and analyzing photographs, documents and first person accounts about our where we live, helps us understand the "back story" and feel a "sense of place," and greater belonging to our community.

Buildings, streets, signs and neighborhoods all have rich stories to tell-- when you know a little more about where you stand, you feel a connection you didn't have before.

Step #1--Before you begin looking closely at the photos, provide a little bit of historical context by reviewing the key dates below. Go around the room and ask students to take turns reading the dates in order. Have students read it off of their phones or ipads.JEWISH JOURNEYS WEST -- Key Dates Leading to the Start of the Los Angeles Jewish Community 1492- 1854
1492
See this ship underneath the outstretched arm of Lady Liberty on the final panel of WBT Murals? American Jewish history began in 1492 when the Jews were forcibly sent out of Spain. This expulsion started a period of intense Jewish migration to many parts of the world.
1654
A boatload of 23 Sephardic Jews, who had settled in Brazil, sailed to the Dutch port of New Amsterdam--which was to later be called New York. This was the start of Jewish community in North America. Over the next 200 years, millions of Jews arrived in North America from Europe, mostly settling in the more established Jewish communities on the east coast such as New York and Rhode Island.
1775-1783
Revolutionary War time. About 2000 Jews lived in America, out of a population of 2.5 million. Most Jews lived in big cities like New York where opportunities for trade and business were plenty. People of diverse faiths lived side by side. In colonial days Jewish communities had one synagogue that organized community life for Jewish members.
1776
Declaration of Independence. Never before had a nation committed itself to principals of freedom and democracy and religious freedom.
1830's
Some Jews started migrating from Germany and Poland for better economic opportunities. In the 1830's substantial numbers of German immigrants, including German Jews, came to U.S.
1848
California became an American Territory after the war between Mexico and America ended. The Gold Rush bought adventurous and hardy explorers and merchants to California. Adventurous Jews, seeking new opportunities make the long, difficult trip to California and then to Los Angeles.
1850
Los Angeles became an official city. Only 1610 settlers lived in L.A. alongside 3,350 Native Americans and Mexicans. 8 of these first settlers were Jews from Germany and Poland who opened shops and became successful merchants.
1854
A group of pioneering Jewish families started the first Jewish organization in Los Angeles called the Hebrew Benevolent Society. It was created to raise money, help the needy and support Jewish communal life. One of their first acts as an organization was to purchase land for a Jewish cemetery.
1862. Joseph Newmark, a lay rabbi, obtains a state charter and organizes Congregation B'nai B'rith, the first Synagogue in Los Angeles and the original name of Wilshire Boulevard Temple.
Click here for a detailed timeline comparing American Jewish immigration to America with world events. Created by the Library of Congress Haven to Home exhibition. Click here for detailed timeline of the history of Wilshire Boulevard Temple
---
Step #2--Imagining Jewish life in the early days of L.A. By Looking closely at images and documents from the times, students will understand the opportunities and challenges the early Jewish pioneers living in L.A. faced.
Note: All photos and documents are attached as files below and can be downloaded and printed; images and documents on the website can also be viewed on smart phones or projected for discussion.
Project/view the image below of Lazard's store.
Print out the "Photo Analysis and Primary Document Analysis Charts" (link below)
Using the Photo Analysis Chart as a guide, analyze together the photo of Lazard's store. Make sure the terms "foreground" and "background" are understood.
Step #3--Divide the class into three groups. Each group gets a packet of materials exploring one of three different aspects of pioneer Jewish life:
The Rough Route to Los Angeles
Building a Community from Nothing
Teenage Life in the 1800's Los Angeles
Give each group a a few copies of the Document Analysis Chart and the Photo Analysis Chart. The files for the two charts above can be downloaded and printed or they can be looked at closely on laptops, ipads or smart phones.
Students can divide up the documents to analyze. Have them discuss as a group how the documents relate to each other and what they communicate about Jewish life in L.A. at this time. The captions provided under the photographs on the website provide helpful context. Ask each group to prepare a 5 minute presentation to the class about what they discovered about early L.A. just by examining the documents.

Step #4--Each group presents what their images/documents communicate about Jewish life in Los Angeles at this time in history.
Step #5--After the presentations reflect with your students:
What did you see that you didn't expect? What surprised you?

What feelings and thoughts does this primary source trigger in you?

In what ways does this exercise help you better understand where you live?
What questions does it bring up for you? What more do you want to know?

Images and Documents for analysis. Files to print put below.
The Rough Route to Los Angeles. Download these four images and documents using the file links under the images below.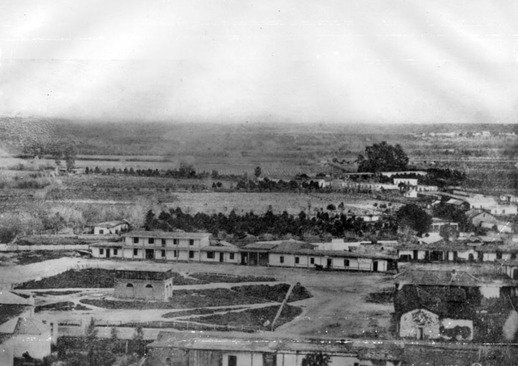 One of the earliest photos of Los Angeles Plaza area, 1857. Note the Mission Church on the lower left. This is still standing across the street from Olvera Street. The row of low buildings is in the direction of Union Station today.
2. Building a Community from Nothing. Download the six images and documents using the file links under the images below.
| | |
| --- | --- |
| Congregation B'nai B'rith Synagogue (first Wilshire Boulevard Temple). Completed in 1873, it was located on Fort Street (now Broadway) between 2nd and 3rd street. It was also called the Fort Street Synagogue (see David Edelman Bar Mitzvah invitation.) It was torn down in 1896. when the new Synagogue was built. | As Congregation B'nai B'rith grew, a larger synagogue was needed. This second building was dedicated in 1896. It was built on 9th and Hope Street in downtown L.A. In 1895 there were 94 members, by 1909 there were 262 members. |
3. Teenage Life in the 1800's L.A. Download the six images and documents using the file links under the images below.
The Bar Mitzvah Invitation and the two texts: Bar M
David Edelman, whose Bar Mitzvah invitation is shown here, was the son of Wilshire Boulevard Temple's first rabbi, Abraham Wolf Edelman. David served as the first president of WBT from 1910 to 1933, when it was still known as Congregation B'nai B'rith. According to Rabbi Magnin, who paid tribute to Edelman's efforts when the Temple was dedicated in the summer of 1929: "Dr. D.W. Edelman has labored day and night with indefatigable energy and courage" to raise the $1.5 million necessary to build the Sanctuary. His brother Abraham M. Edelman, was the architect of the new Temple built on Wilshire in 1929. Image From "Bicentennial Digest: A Perspective of Pioneer Jewry, Jewish Federation --Council of Greater Los Angeles, 1976

From "Bicentennial Digest: A Perspective of Pioneer Jewry, Jewish Federation --Council of Greater Los Angeles, 1976"

Early in 1896 a number of young men whose families belonged to Congregation B'nai B'rith established the Young Mens; Hebrew Culture Association. The first members were fourteen boys in their late teens. Almost all the teens remained very active in the L.A. jewish community as they matured. Left to right, top row, Abraham Kremer, Samuel Behrendt, Marco H. Hellman, Leo W. Barnett, Isaiah M. Norton; bottom row--Henry M. Newmark, Isaac O. Levy, George N. Black, Albert M. Norton, Edgar Baruch, Robert Newmark and Samuel T. Norton.

Los Angeles High School Graduation--1882 Having just received their diplomas, cousins Jeanette Lazard (standing) and Ella Newmark pose together. The girls were daughters of L.A.'s first Jewish settlers: Solomon and Caroline Lazard (Caroline was the daughter of Joseph Newmark) and Harris and Sarah Newmark (Harris was Joseph's nephew.)
ACTIVITY #2--
Create a Visual Time Line to Trace the Trail of Jewish Life in Early L.A.
Through these primary documents: photos, memoirs, letters and more, students will interpret and understand Jewish life in early Los Angeles and the values and vision that built Wilshire Boulevard Temple and and the L.A. Jewish community. After analyzing and discussing the documents, students can incorporate these materials, and more, into a collaborative timeline showing the evolution of the community and city they live in. Use the resources below to design the best time-line for your class.
Digital Timelines: There are digital timelines that offer a collaborative environment for students to create a multi-media timeline. Consider the three options below, however as digital options are ever-changing we suggest you search for new on-line resources as well.
http://dippity.com
https://www.hstry.com
http://timetoast.com
Readwritethink Timeline
Tactile Timelines: Create a low-tech, tactile time-line which simply, but effectively displays historic materials and student work. Consider these ideas: classic rope with wooden clothespins (each date written in the clothespin; a fold-out accordion book, tree branches displayed horizontally with images connected with twine and wire, a series of framed collaged images and text. Here are some excellent resources for tactile, low-tech timelines:

Bright Ideas Press
Classroom Timelines on Pinterest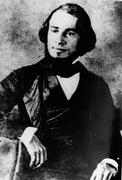 ACTIVITY #3--Carvalho's Photo Studio: A Day in the Life
Solomon Nunez Carvalho was an artist, portrait photographer and the first Sephardic Jew to venture to Los Angeles. He traveled west as the official photographer and artist for the explorer John C. Fremont on his difficult 1853-54 mapping expedition to the Rocky Mountains. Upon arriving in the frontier city of Los Angeles in 1854, Carvalho connected with the Jewish community, set up a portrait photography studio and is credited with instigating the official formation of the organized Jewish community. Based on his leadership experiences in the Jewish community back east, he pushed the L.A. newcomers to buy land for a Jewish cemetery and formally set up a Hebrew Benevolent Society to support their members.

Over two sessions the class will recreate Carvalho's "photo studio."
Students will chose a portrait of one of the founders of B'nai B'rith/Wilshire Boulevard Temple in the online Jewish Museum of the American West or on this website, and do web research to learn about that person's life.
Students will print out at home a copy of the photograph they are posing as and bring in clothing and props that are needed to recreate the image.
On "photo day" they will dress up and be photographed portraying the person in the photograph.
In following sessions they will write a letter or diary entry or create an artifact that expresses that person's life and work.
This can culminate in a L.A. Jewish History community exhibit or family day presentation.
---
Founders of the Los Angeles Jewish Community
The new on-line Jewish Museum of the American West tells the story of some of these founders of the Los Angeles Jewish community. Use this excellent website and other sources to discover the many accomplishments of these pioneers. Type the name into the search box to find their information.
Solomon Lazard
Solomon Nunes Carvalho
Joseph Newmark
Joseph P. Newmark
Harris Newmark
Rosa Newmark
Ella Newmark
Isaias Hellman


Sarah Newmark
Rabbi Abraham Wolf Edelman
David Edelman
Marco Newmark
Kaspare Cohn
Mina Norton
Jeanette Lazard
Marco Hellman