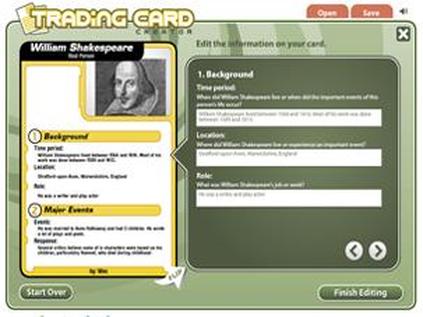 USING THE TRADING CARD CREATOR TO COLLECT & SHARE INFORMATION ABOUT THE ANCIENT PEOPLES OF THE NEAR EAST
The Trading Card Creator can be found on at www.readwritethink.com and can be accessed by
clicking here.
Please read this first before creating your Ancient Peoples Trading Cards
Begin by writing your groups names on the first page.
In TOPIC write the name of the ancient people you are researching; double click the category REAL PERSON below.
This will take you to the front of the trading card.
Insert the image you have found that represents your ancient people.
Follow the questions as best as you can, adapting it to fit your topic. NOTE: there is a word limit so be concise. Put your own "spin" on it.
Click the arrow to get to complete the back of the card.
When FINISHED, be sure to both SAVE the card AND EMAIL it to yourself AND YOUR TEACHER, who will compile all the cards and email all students a complete set.
Print out colored copies on card stock, follow the instructions to assemble them.
Use the Cards to share the information you collected, and to teach and quiz each other on what you discovered.
---